Ackk, this is so late but I am guesting at
A Girl in Paradise
. She is hosting a really fun series.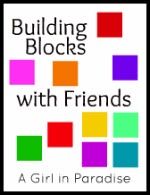 It is a series promoting modern quilting and quilting bloggers. Each post teaches you how to make a block and shares a project with you.
Today I posted a tutorial on a Modern "String" Log Cabin.
It is a two for one block tutorial. I know that looks like a lot of little pieces, but before you run away, you all know me and there is no way I am going to sew all those little pieces together. Instead I came up with a way to strip piece it. Go check it out over at
A Girl in Paradise
.